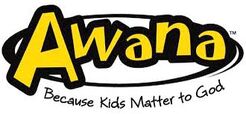 Awana, short for Approved Workmen Are Not Ashamed, is an international evangelical project founded in 1950 by Art Rorheim. It is a nonprofit organization dedicated to helping churches spread the love of Christ to our children.
History
Awana's beginning were started in 1941 at the North Side Gospel Center. Lance Latham, the senior pastor, collaborated with Art Rorheim, the children's pastor, to create a fun way for kids to learn about Christ. Eventually, other churches saw the success of this program, and Awana was formed. 
Sounds interesting. How do I get in on this?
Well, if you're an adult, you can help kids learn about God. there are five groups you could work with: Puggles (2-year-olds), Cubbies (3- and 4-year-olds), Sparkies (5-year-olds through 2nd grade), T&T (3rd through 6th grade), Trek (Junior High), and Journey (High School). If you're an adult, all of these are open to you. If you are a middle schooler, then you actually could do Awana. If you would rather help little kids, you can, but only up to Sparkies. If you are High School, same, but only up to T&T.
But... what if there aren't any near me?
Don't worry! There most likely are. just go to this website:
http://awana.org/locations/awana-locator,default,pg.html
Type your location in, and try and find an Awana near you. There should be one. There are some in Nepal, for Pete's sake!